Neurosurgery
The Neurosurgery Department of the OLYMPION, is staffed with highly qualified and experienced scientific and nursing personnel, with many years of activity in Greece and abroad and continuous update on the new methods in Neurosurgery and meets the European standards in the requirements of a neurosurgical patient. In addition to the standard nursing wards, it also has an Intensive Care Unit with the adequate technological equipment and an ICP Monitoring Unit.
The Department performs surgeries that cover the entire range of the neurosurgical specialty. In particular, operations in regard to diseases of the brain, the intracranial vascular tree (aneurysms and vascular malformations), diseases of the pituitary gland, posterior cranial fossa (auditory neuromas, meningiomas and other tumors), as well as cranial base conditions, are carried out.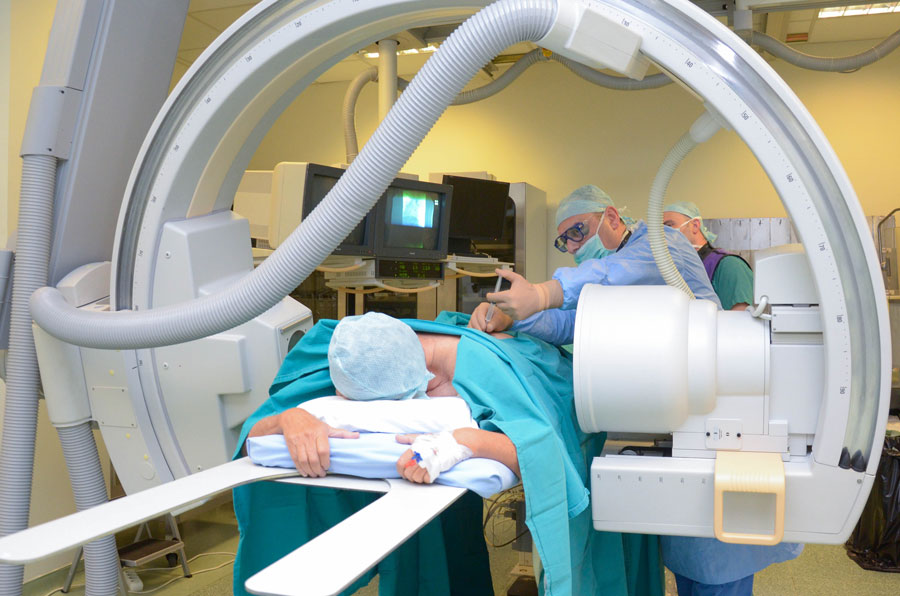 Also, operations for conditions of the vertebral canal such as space occupying lesions of the spinal cord, neurinomas, vascular malformations of the spinal cord, degenerative conditions of the intervertebral discs of the cervical, thoracic and lumbar spine, are performed with classic and also modern methods (endoscopic).
Special neurosurgical operations are also performed, such as microvascular decompression of the trigeminal nerve as well as the application of stereotactic surgical procedures, for diagnostic purposes (biopsies).
More specifically, the microneurosurgery procedures carried out, are:
A. In conditions of the brain
Craniocerebral injuries (with epidural hematoma, subdural hematoma, cerebral fractures, patellar skull fractures, chronic subdural hematomas)
Brain tumors (meningiomas, gliomas, cerebellar hemangiomas)
Cranial base tumors (pituitary, auditory neurinomas, cerebellopontine angle's)
Vascular conditions (cerebral aneurysms, cerebral vascular malformations)
Hydrocephalus (Installation of externally adjustable valves)
Cranioplasty - meningoplasty
Ommaya placement (for chemotherapy infusion)
Lumbar peritoneal drainage
B. In conditions of the spine
Spinal cord tumors
Microdiscectomy (cervical, thoracic, lumbar spine for disc projection)
Cervical, thoracic and lumbar spine constrictions
Spinal fusions (anterior and posterior cervical, thoracic and lumbar spine)
Kyphoplasty (in osteoporosis, pathological fractures)
Baclofen pump installation (in increased limb spasticity)
C. Neurosurgical procedures with endoscopic access
Transsphenoidal hypophysectomy
Treatment of syringomyelic cysts
Ventriculostomy (for the treatment of obstructive hydrocephalus)
Placement of a brain valve
Carpal tunnel syndrome
D. Stereotactic surgical procedures
E. Τοπικές επεμβάσεις
Carpal Tunnel Syndrome
Decompression of the ulnar nerve